*le français suit* Hanwell, NB
Limited substitute teacher funding is available – contact Tzomi to be put on the list!
Stories are powerful – they build shared understanding, blend disciplines, and create dynamic experiential learning. Storytelling is an art, and, just like any good story, science is also creative, unpredictable, and open to many interpretations. How can storytelling help us teach sustainability?
Join us for the next SEA conference showcasing authors and multidisciplinary creators, skill-building sessions, educator tools, and peer-t o-peer support to change the narrative of environmental education, sciences, art, and hope for the future in New Brunswick.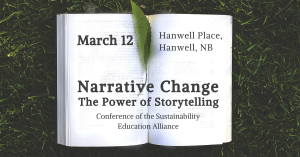 ---
Des fonds limités sont disponibles pour les suppléants – contactez Tzomi pour être mis sur la liste !
Les histoires sont puissantes – elles construisent une compréhension commune, mélangent les disciplines et créent un apprentissage expérientiel dynamique. Raconter une histoire est un art et, comme toute bonne histoire, la science est également créative, imprévisible et ouvertes à de nombreuses interprétations. Comment les histoires peuvent-elles nous aider à enseigner la durabilité ?
Joignez-vous à nous pour la prochaine conférence de l'AÉV qui présentera des auteurs et des créateurs multidisciplinaires, des séances de renforcement des compétences, des outils pédagogiques et du soutien entre pairs pour changer le récit de l'éducation environnementale, des sciences, de l'art et de l'espoir pour l'avenir au Nouveau-Brunswick.