February 17, 2020 at 12:49 pm
#2097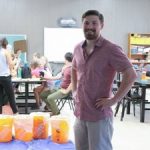 Geoff
Participant
My name is Geoff MacDonald and I am the Director of Education at The Gaia Project specializing in curriculum development. I was born, raised and educated in Fredericton, New Brunswick and attended the University of New Brunswick to obtain a Bachelor of Science, Bachelor of Education, and Master of Education focusing on teacher education and inquiry-based learning strategies. I began working in climate change education with The Gaia Project in the summer of 2018 and developed a climate change education plan for the province of New Brunswick with support from the Environmental Trust Fund.
I am currently working with a number advisory committees across NB to design K-5, 6-8 and 9-10 climate change curriculum companion guides for teachers.
I am happy to support teachers who want to introduce climate change topics in the classroom through a platform they are most comfortable with delivering to students.